On the 28th–30th of November, the Fingerprints smart card crew went to Trustech in Cannes, the largest event in the world for smart cards, payments, and IDs, with over 13,000 visitors from 125 countries. We spoke on panels, met with customers and partners, and checked out the latest developments and trends. Some snapshots have been shared on Twitter already, but read on for a fuller summary.
The future of payments is biometrics!
There was lots of talk about biometrics in general and in combination with payments in particular. Both to increase security and to make things easy and frictionless for the end user. Consumers and merchants alike are asking for a smoother payment, or rather, shopping (!) experience. Contactless payments, both card and mobile-based, are setting new standards for how this should be done across the world, and these developments are propelled by lifestyle use cases where speed and convenience are the driving forces. Consumers care about solving real-life problems, not just the novelty of new technology as such. At this event, it was clear that the traditional financial services are meeting FinTech in a perfect storm where digitization is paving the way for new and innovative ways to pay. At the same time, we will all have more connected IoT devices and applications in the future, and thus there will be an increased need for easy and secure verification and payments.
At the heart of it all is biometrics, because that is the only way to increase security without compromising ease of use. Biometrics is even now being incorporated into our everyday lives as consumers embrace it on their smartphones to replace PINs and passwords for unlocking, making mobile payments, and protecting apps.
Listening to keynote presentations, we learned that one thing is for sure, consumers will have their choice of many new ways to make a payment in the future. Cash is still the main payment method on a global scale, but as cash is doomed to decline, there will be plenty of room for all kinds of new digital payment methods in the future depending on where you look in the world – card for sure, but also mobile and beyond! This was also a conclusion in the speech by Pierre Fersztand, Global Head of Cash Management at BNP Paribas bank.
The coming era – the biometric payment card
The challenges and opportunities of biometrics in payments were discussed in a panel in which we took part, where the trending subject was contactless payments with biometric smart cards. According to Patrik Lindeberg, COO of Precise Biometrics, "Biometrics will replace PIN codes on payment cards." Fingerprints' Director of Business Development, Jonas Andersson, said, "For the first time, customers are driving demand for a new feature in payment cards." On the booth floor, there were a lot of focus on cards and many exhibitors was showcasing biometrics on a card. Fingerprints are very proud and pleased to be an integral part of the majority of those cards with our superior solutions!
Linxens, a leading provider in the smartcard arena, revealed their new generation of biometric payment card with integrated fingerprint sensor. As announced on December 13 Fingerprints are partnering with Linxens on contactless Prelam® with T-shape™, targeted at card manufacturers. Beyond having a large booth Franck Germain, VP Marketing at Linxens, also presented on the innovation stage.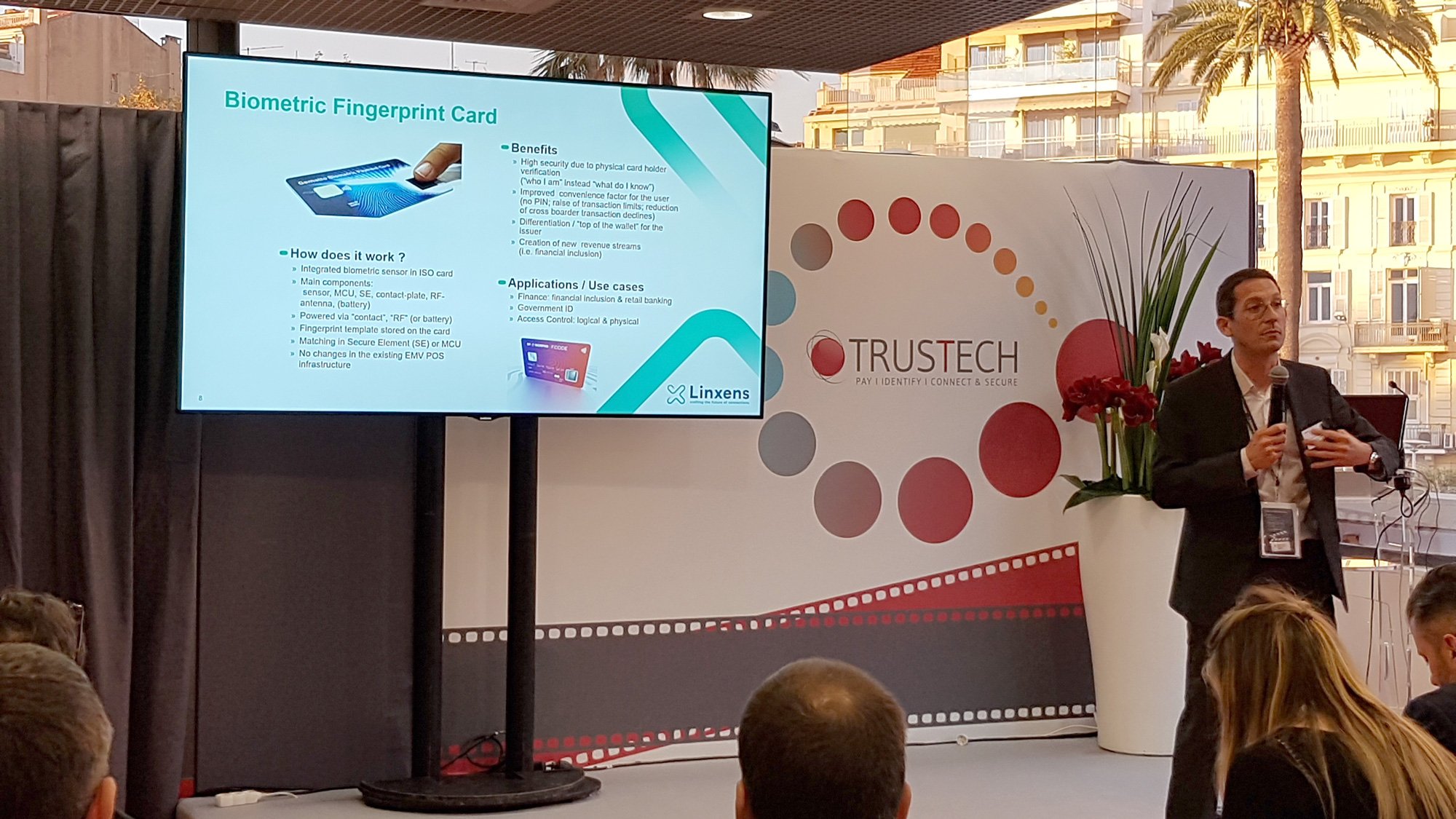 Jinco displayed and demonstrated various cards with our FPC1300-series touch sensor integrated.
ManeulLab showed a range of cards with our FPC1300-series touch sensors, you can read more about it here.
Stay tuned for next post where we will wrap up and reflect on 2017 and the road we are on towards worry-less payments with biometric smartness.